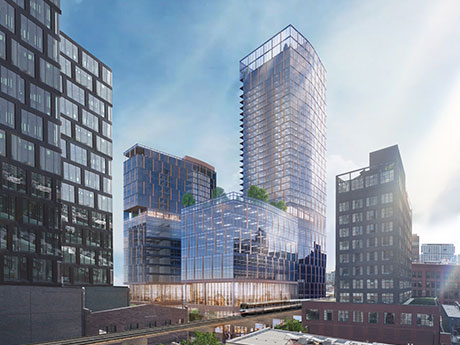 Chicago — A joint venture between CRG and Shapack Partners has acquired the former Bridgford Foods Corp. food processing facility in Chicago's Fulton Market district with plans to redevelop the site into a 750,000-square-foot mixed-use project. The development is slated to feature 250 apartment units, 350,000 square feet of Class A office space, 150 boutique hotel rooms and 40,000 square feet of retail space.
Located at 170 N. Green St., the project site spans nearly an entire city block near the Chicago Transit Authority Pink Line and Green Line station at Lake and Morgan streets.
CRG's parent company, Clayco, will serve as general contractor and its subsidiary, Lamar Johnson Collaborative, is the architect. Paige O'Neil and Annie Kwasigroch of Shapack will oversee lease-up of the office and retail space.
CRG anticipates that construction could begin as early as this fall. A timeline for completion was not provided.
"This location is a tailor-made opportunity to meet the overwhelming trend of flight to quality we are seeing in the city," says CBRE's Keely Polczynski, who represented Bridgford in the sale. "Employers are investing in upgraded spaces to boost employee engagement as well as attract and retain talent."
According to CBRE, 60 office leases of more than 20,000 square feet have been signed since the first quarter of 2020 by tenants relocating to the Chicago market. Of those leases, 79 percent were for upgraded space and 85 percent were for buildings that were either recently built or underwent a major renovation.
Bridgford outgrew its 156,000-square-foot plant in Fulton Market and has since moved to a new facility on 44th Street in Chicago. The Dallas-based company sells dried meat snacks, breads and ready-to-eat sandwiches.
CRG is a privately held national real estate development and investment firm that has developed more than 10,000 acres of land and delivered over 210 million square feet of commercial, industrial, institutional and multifamily assets exceeding $13 billion in value. The firm maintains offices in Atlanta, Chicago, Seattle, Southern California, St. Louis, Philadelphia and Phoenix.
Shapack is a real estate development company based in Chicago's Fulton Market. The firm acquires, repositions, develops and invests in properties throughout Chicago and focuses on multiple asset classes such as office, residential, hospitality and retail.
— Kristin Hiller
classic-editor-remember:

classic-editor

bs_sponsor_advertiser_id:

104493

bs_sponsor_advertisement_id:

bs_ads_disabled: