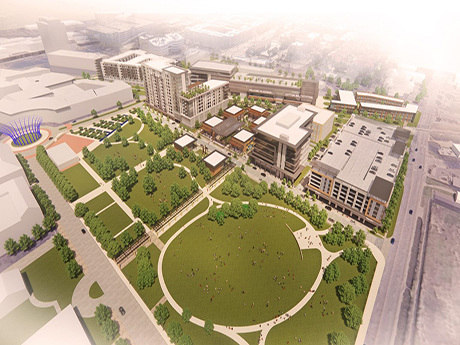 Addison, Texas — AMLI Residential and Stream Realty Partners have been named master developers for a $472 million, 18-acre, mixed-use development in Addison, roughly 15 miles north of Dallas.
The Town of Addison has been acquiring land for the project since the inception of the DART Light Rail system in 1983 with plans for a transit-oriented development. The project is centered on a DART Silver Line station currently under construction near Addison Circle Park, a 10-acre, master-planned public park.
DART has partnered with the Town of Addison through a ground-lease structure that allows for the inclusion of both the train and bus stations in the development. Phase I of the project is set to include:
• A six-story, Class A office building with 150,000 square feet of leasable space and 9,000 square feet of ground-floor retail;
• a 13-story luxury multifamily community with 9,000 square feet of ground-floor retail space;
• a seven-story luxury multifamily building with 5,000 square feet of ground-floor retail space;
• a 650-stall parking structure with ground-floor retail;
• and a 45,000-square-foot entertainment complex operated by The HUB, a Texas-based creator of entertainment and restaurant venues with an emphasis on daily events and festivals.
Cushman & Wakefield has represented the Town of Addison since 2020 seeking to procure developers to spearhead the project.
"Now that we have a more comprehensive DART timeline, we've been able to select a master developer to help us achieve the vision adopted by the city council, which will have a significant economic impact for Addison and the region and will set Addison apart from other recent developments in the area," says Addison City Manager Wes Pierson.
Groundbreaking on Phase I of the project is scheduled for the second quarter of this year with completion planned for mid-2024. Additional phases will include a 150,000-square-foot office complex, boutique hotel and an additional parking structure.
AMLI Residential focuses on the development, construction and management of luxury multifamily communities across the country. As of August 2021, the company owned and managed 72 communities totaling 23,000 units.
Dallas-based Stream Realty Partners has more than 250 million square feet of office, industrial, retail and healthcare properties under management across the U.S. The company has several other projects underway in Texas, including a 350,000-square-foot office project in Uptown Dallas; a 156,000-square-foot speculative industrial project located in northwest Houston; and Phase II of Empire West Business Park, an industrial project located in the western Houston suburb of Brookshire.
— Katie Sloan
classic-editor-remember:

classic-editor

bs_sponsor_advertiser_id:

104493

bs_sponsor_advertisement_id:

bs_ads_disabled:

abkw-text: