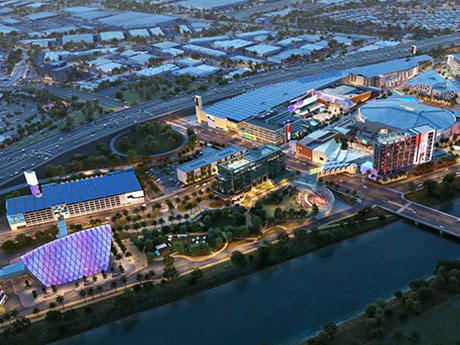 Anaheim, Calif. — The Anaheim City Council has approved plans for the $4 billion ocV!BE mixed-use entertainment district to surround the Honda Center, home of the NHL's Anaheim Ducks. With this approval, construction of the project is scheduled to begin before the end of the year.
Plans for the 95-acre development call for a 5,700-seat concert hall, 50,000-square-foot market hall, 20 acres of public space, two hotels totaling 650 rooms, approximately 1.1 million square feet of office space and 1,500 apartments with a 15 percent affordable housing component. The site is already home to the Anaheim Regional Transportation Intermodal Center (ARTIC), offering rail, bus, taxi and other transportation services to surrounding areas.
The development will also include several sustainability features such as rooftop solar panels on all the parking garages and a central utility plant which will provide energy efficiency throughout the campus, providing a 25 percent savings in power usage. As a result, ocV!BE will seek LEED certification for all office, hotel and concert hall buildings. It will also seek WELL Building Standard certification for all commercial and residential buildings.
The Samueli Family, which currently owns the Anaheim Ducks and manages the Honda Center, is leading the development team. Details were not released regarding financing for the project.
The conceptual master plan for ocV!BE was submitted in June 2020, and the project application for entitlement was submitted for the City of Anaheim's review in November 2020.
The project's first phase is scheduled to open to the public in 2024. Developers expect to create approximately 10,000 new construction jobs and more than 3,000 permanent jobs upon its completion.
The goal is to complete the entire ocV!BE project prior to the 2028 summer Olympics in Los Angeles, when the Honda Center will host indoor volleyball.
Nationally, this is the next in a series of developments built around a sports stadiums and arenas, following in the footsteps of high-profile projects such as District Detroit in Detroit and The Battery outside Atlanta.
— Channing Hamilton
classic-editor-remember:

classic-editor

bs_sponsor_advertiser_id:

104493

bs_sponsor_advertisement_id:

bs_ads_disabled: