No market is immune to the consequences of current economic conditions. Certain sectors of commercial real estate, though, are better equipped to weather headwinds, primarily rising interest rates. Retail as an asset class has proven itself to be an exemplar of this. Brokers and developers say that this is especially true of Atlanta's retail market. 
In the words of Dotan Zuckerman, executive vice president of retail with Portman Holdings, "retail is the shining star" and one that is "always capable of evolving."
But is difficult to participate in the economy on a basic level, let alone be active in the commercial real estate industry, without being forced to contend with the somewhat harsh conditions currently shaping the landscape. Some economists still herald a looming recession, and Don McMinn and Zach Taylor, who co-lead Marcus & Millichap's Taylor McMinn Retail Group, point out that "uncertainty" and "volatility" remain present in the market, which the brokers attribute largely to the Federal Reserve's actions to combat inflation, as well as the fraught nature of the banking system.
Matthew Oppenheimer, president of Atlanta-based Halpern Enterprises, likewise points to borrowing costs as a primary obstacle in the industry, adding that construction costs also continue to be elevated and impact construction and redevelopment activity.
These stressors have, predictably, most directly impacted investment sales transactions and the rate of new development, both of which have slowed considerably. Oppenheimer says that for Halpern, the development of large shopping centers is "essentially nonexistent" as "the economics of those deals don't make any sense."
Leo Wiener — who heads Ackerman Retail, a division of locally based development firm Ackerman & Co. — echoes this sentiment.
"It's tough to make the numbers work at this point," says Wiener.
He points out that all-in interest rates on construction loans have increased to 8 percent from the previous 3 to 4 percent in early 2022. Though supply chain issues have eased some since the peak of the COVID-19 pandemic, Wiener says that they have not entirely evaporated and that this remains a contributing obstacle for development activity.
A shining star
Regardless, Atlanta's retail scene remains extremely healthy, according to the industry professionals interviewed for this story, and development activity has not yet come to a full stop. Portman very recently completed construction on the first phase of Junction Krog District, a mixed-use property located on the Atlanta BeltLine in the city's Inman Park district. Plans at the property, which totals roughly 142,000 square feet of office and retail space, include live music and pop-up bar activations, the opening of restaurants Yuji and YEPPA&co next summer and, eventually, a second phase with more retail space. (Portman recently purchased another parcel of land across the street from the first phase for this purpose.)
A bit more removed from the heart of Atlanta, Toro Development Co. will break ground this fall on Medley, another mixed-use project. Upon completion, the development will comprise 200,000 square feet of retail space in Johns Creek, in addition to residential and office uses.
Eleven tenants recently committed to space at the property, including Little Rey, CRÚ Food & Wine Bar, AYA Medical Spa, Fadó Irish Pub, BODY20, Lily Sushi Bar, Lucciano's Gelato, Sugarcoat Beauty, Summit Coffee, Knuckies Hoagies and Cookie Fix.
Mindy Selig, senior vice president and leasing representative of locally based development firm Selig Enterprises, also observes that though development starts are scarcer, she is seeing "an uptick in major improvement and renovation projects to update aging assets."
In Buckhead, Selig is underway on a significant capital improvement project at Lenox Marketplace, which totals 9.4 acres and will be rebranded as The Block at Phipps. The developer also recently welcomed boutique retailer Swan Space to The Works, Selig's sprawling mixed-use development on the city's Upper Westside.
Balfour Beatty similarly completed site improvements and enhancements to existing properties at Krog District, including the Krog Street Market food hall, in March on behalf of owner Asana Partners. The project also included the construction of two new mixed-use buildings featuring both office and retail space, including a 10,400-square-foot store for outdoor apparel brand Patagonia.
Investment sales activity in Atlanta's retail sector has also persisted, if at a drastically reduced level. McMinn quantifies this reduction, stating that acquisition volume is down 50 percent relative to last year and notes that smaller deals (under $3 million) are now more prevalent.
One such recent deal included the $3.3 million sale of Governor's Walk, a 21,280-square-foot shopping center in Peachtree City, and CBRE in March brokered the $4 million sale of Thornton Promenade in Lithia Springs.
Some more significant deals have transacted as well, including the $19.8 million sale of Douglasville Town Center in Douglasville. Horizon Village Shopping Center in Suwanee also sold for $16.3 million in June, and Northmarq arranged the $15.2 million sale of Westpark Walk in Peachtree City in February. 
Hotlanta
Atlanta's retail success can be partly attributed to the trend of the retail boom in the Southeast at large. 
"We've just had a huge net in-migration of people over the last two to three years coming into the South — and the Southeast in particular" notes Wiener. "That bodes well for retail."
Kimberly Goetz, vice president of leasing with Toro, has lived in Atlanta her entire life and says it's "incredible to witness" the level of population growth in the city and the Sun Belt at large.
When asked to elaborate on the draw of Southern states and Atlanta specifically, Wiener gestures to the fact that the region was "much more open for business than other locales" and recovered more quickly in the aftermath of the pandemic.
Oppenheimer adds that Atlanta is strengthened by the fact that it is "not dependent on any one or two industries" but rather has cultivated a "diverse and robust economy" that includes financial tech firms like NCR and other global businesses such as Coca-Cola, Delta Airlines, Chick-fil-A and The Home Depot, among others.
Landlord's market
Whatever the draw, it is undisputed that Atlanta retail is experiencing historic lows in vacancy.
Some stand to benefit from the lack of occupancy more than others. Landlords, namely, are in a particularly privileged position. In the words of Maggie Coppage, senior associate of Franklin Street's Atlanta Retail Tenant Services team, the retail sector is "a landlord's market." The paucity of both new development and vacancy has engendered a market that is "super tough [for tenants] to get into," says Coppage.
In the face of such a shortage of available retail space, many tenants are loathe to relinquish their occupancies or leave leases. Oppenheimer has seen this reflected at Halpern's properties, which have had "a really successful couple of years on renewals." Marcus & Millichap reports that the second-quarter vacancy rate in metro Atlanta stayed tight at 4 percent. 
"Retailers are truly trying to lock in and secure their position," adds Coppage.
Oppenheimer observes that rent growth has been commensurate with this demand. Asking rents saw a 12 percent increase year-over-year in the second quarter at $18.85 per square foot, according to Marcus & Millichap.
"The lack of new supply, specifically new supply of shopping centers…has resulted in a good environment for rent growth, both on new deals but also retaining and growing the rents of existing tenants," says Oppenheimer.
Jeremy Rosenthal, managing director of M&P Shopping Centers, does qualify that though the company has also implemented increases to rent in recent years, there is a limit to the degree to which rents can be increased, in consideration of rising taxes and insurance and maintenance costs for retail tenants.
Zuckerman points out that the "tremendous" volume of retail sales in Atlanta does help offset tenant costs.
"There always needs to be a healthy balance between sales and rents, and we're achieving this in Atlanta," he says.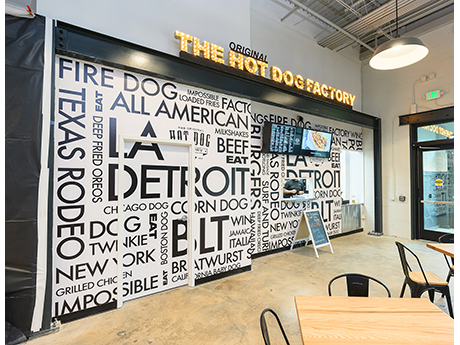 A diverse palate
Wiener concurs that the situation is "quite attractive" for landlords, describing what he terms a "landlord-friendlier environment when negotiating leases." This allows landlords to be more selective when selecting tenants and leasing terms. Ackerman Retail has been accordingly "pickier," seeking out retailers with better balance sheets and credit for its own properties.
"You want to be intentional about who you lease to," Wiener notes.
He adds though that it is also important to take occasional risks in service of creating a "cohesive, synergistic development." This was the reality when curating the tenant lineup at Ackerman's Lee + White development in the West End of Atlanta.
"We've taken tons of risk on tenant lease terms," says Wiener.
At Lee + White, which is co-owned by MDH Partners, this lineup includes a bevy of restaurant concepts, many of which comprise the project's food hall. Eateries at the food hall, scheduled to open this year, include Cielito Lindo, Costa Coffee, Crème de la Crepe, Dough Boy Pizza, GoodAzz Burgers, gusto!, Gekko Hibachi & Sushi, Honeysuckle Gelato, Lake & Oak BBQ, Mochinut, The Original Hot Dog Factory, Pastaholics, Sakura Sake Bar & Bottles, Sweet Red Peach, Vietvana, West Side Deli and World Chicken.
Popularity of food-and-beverage concepts is a common thread throughout Atlanta's retail scene, according to interviewees. Oppenheimer observes that Halpern's net lease, build-to-suit team keeps a "very full pipeline of deals" with tenants such as Starbucks Coffee, Whataburger and Chick-fil-A. Chick-fil-A also recently announced that metro Atlanta will be one of two locales in which it tests new restaurant formats, with plans to open an elevated drive-thru concept in metro Atlanta.
Phipps Plaza, Simon's premier shopping mall and mixed-use destination in Buckhead, also saw the addition of a 25,000-square-foot food hall that opened in April through a partnership between Creating Culinary Communities (C3) and Legends. Eateries featured in the hall include Umami Burger, Krispy Rice, Sam's Crispy Chicken, Kumi, Sa'Moto, EllaMia, Cicci di Carne, Plant Nation, El Pollo Verde, Stonie Bowls, Frankly by Snap-O-Razzo, Tasemade Me Tacos and Citizens Pizza.
Coppage, who represents Summit Coffee, says that along with unparalleled growth, the food-and-beverage scene is part of what makes Atlanta special.
"Atlanta is known to have one of the best food scenes in the United States," she says.
Goetz says of the mixed-use development in Johns Creek that the project name "Medley" is a nod to the diverse lineup of restaurant concepts that will be found at the development, which she says will feature the best-in-class of Asian, Indian and European cuisine. This lineup reflects Atlanta's community and its tastes. Goetz notes that in places like Franklin, Tennessee, tenant selections have a "more homegrown" feel.
Moving forward, Goetz predicts that suburban Atlanta in particular will continue to experience growth as millennials with "elevated tastebuds" continue to flock to such areas.
Independent of the specific patterns of sprawl, brokers and developers are bullish on the future for Atlanta across the board.
Zuckerman envisions that the city will continue to see "vibrant retail nodes emerge and expand." And however strong retail in Atlanta has been thus far, Oppenheimer forecasts that things will only get better.
"The future looks better than the present, and the past," he says.
— Hayden Spiess
This article was originally published in the October 2023 issue of Shopping Center Business magazine.