With more than 600 locations nationwide (and counting), Atlanta-based Moe's Southwest Grill remains focused on growth — and on flexibility. According to its chief brand officer, Tory Bartlett, Moe's will continue expanding in new markets and in new formats to meet guests where they are. Thanks to the introduction of new prototypes, Moe's is able to provide franchisees with flexibility to develop with competitive real estate and in more urban environments, as well as prioritize the shift in consumer demand from in-restaurant dining to off-premise businesses.
In December 2022, after years of shifting customer behavior due to the pandemic, Moe's finalized a pared-down prototype designed to streamline the space and allow it to enter varying sizes/types of real estate while also improving operations. The flexibility afforded by the new formats also allows for more non-traditional development.
"We expect to open new units both in traditional and non-traditional formats," Bartlett says. "While we continue to see success in streetside locations, the concept also lends itself well to non-traditional locations on college campuses, military bases, airports, casino, and travel plazas — all of these are real estate opportunities we're looking to bring the Moe's Southwest Grill brand into."
Indeed, the new prototype scales down from 2,500 square feet to just 1,800 square feet, which allows Moe's to be more nimble from a real estate standpoint. The newly streamlined iteration also improves operations.
"While the prototype still includes dual lines for third/first party ordering, we have also designed an in-store pickup counter for these online orders; it will live right next to the POS for easy access and monitoring," explains Bartlett. "Additionally, the brand made purposeful design decisions to maximize efficiency. This includes new equipment and moving the cooking of proteins to the back of the house."
To that end, new Rational ovens are being rolled out systemwide over the next few years, in order to simplify operations and ULE, as well as to enhance food quality and the ability to fit in a smaller space. As Bartlett explains, two of these ovens will replace four pieces of equipment — ultimately taking up less space in the kitchens. Some stores are placing them in the back of the house, which allows for a cleaner and more spacious area behind the line.
"The biggest benefit to these ovens is the menu innovation that will become available to us — we are able to cook nearly anything in these," Bartlett says. "This will allow us to test and roll out new proteins, snack options and desserts that will help drive both sales and average checks. Beyond that, we are seeing product cost and labor savings in stores with these ovens. They are a game-changer for our kitchens."
The new ovens are expected to be installed in every Moe's by 2025.
With equipment upgrades carrying more of the load in a downsized space, Moe's Southwest Grill has taken lessons from the pandemic years — and the evolution of consumer habits — and applied those lessons learned to its new design. Moe's worked with branding company Miller Zell to help it refine its current prototype design and make it more cohesive.
"The design of this prototype absolutely accounted for the changes in customer habits that took place during and after the pandemic, in addition to some existing needs for an updated look inside restaurants, cost savings and more efficiencies in terms of operations," Bartlett says. "As a result of the pandemic, there has been a heightened sense of awareness for sanitation and cleanliness from our consumers. For us, we've worked on our prototype to keep maintaining the restaurant easier with less square footage." (And, an added benefit of the new Rational ovens is their self-cleaning feature, which makes maintaining food quality and cleanliness easier.)
As Bartlett notes, the pandemic impacted almost every aspect of the restaurant world — and many of these impacts and changes in customers' preferences are here to stay. "One of the biggest consumer trends that has accelerated has been convenience and accessibility. Since the pandemic, our digital sales have increased significantly. As a result, it is imperative that the guest journey for takeout/digital orders is seamless. We have been working on enhancing our pickup experience through incorporating 'app-thru' lanes and designated pickup areas in our new prototypes as well as overhauling our packaging suite to have a best-in-class takeout experience. Overall, the need for restaurants to adapt will continue for those who wish to retain customers' trust in providing a safe environment, delicious meal and an efficient experience."
The new prototype is meant to highlight the Moe's Southwest Grill brand, as well as the assets that make Moe's unique in the market — its line of high-quality ingredients, salsa bar and beverage offering. Retrofits have begun and will continue over the course of five years.
The new look also ties into the ultimate goals of Moe's 'Project VICTORY' campaign, which includes creating a better customer experience. This change in appearance is meant to align the interior environment with the new logo and colors that rolled out in 2021.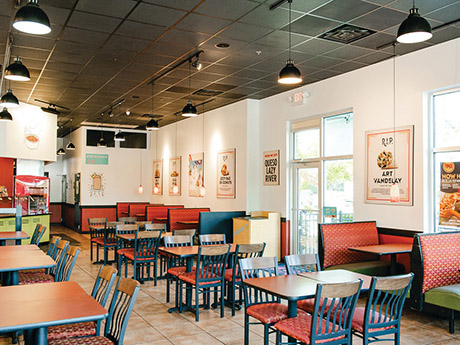 "From the start of this process, we had conversations with franchisees and corporate team members to find out what was working in our restaurants and where improvements could be made," Bartlett says. "As we worked with franchisees to roll out this new look, we received positive feedback and saw great results from an easily executable brand boost in these restaurants."
Moe's new packaging helps make the takeout process more eco-friendly, and more cost-effective, for the company — all while providing a best-in-class experience for guests and team members.
"It was important to us to have packaging that reflects our brand identity, while also creating a better experience for our employees," Bartlett explains. "Our cups and bowls are now color coded so that our employees know exactly what size they are pulling from as they serve guests or pull from inventory. We've made the packaging simpler graphically, with a prominent logo placement in our sharp brand colors. This also helps us in our video or social media placements to establish a clear brand callout, versus packaging where the brand itself may not break through."
Additionally, Moe's Southwest Grill, whose parent company is FOCUS Brands, is enhancing its overall brand identity via new graphics and POP designed with the customer journey top of mind; new "Welcome to Moe's!" signage on front windows; directional signage and floor mats; and a Mantra Mural sign in the dining room that tells the story of the brand.
"Research has told us that our atmosphere is one of the biggest brand differentiators for Moe's Southwest Grill. We want that to continue to be a draw for guests, so the new graphics packages are part of that,"
Bartlett says. "'Welcome to Moe's!' is our signature calling card, and the new signage makes that visible from the street or the parking lot — even before the guest enters. The Mantra Mural tells the story of Moe's. Many people assume it was named after a person named Moe, but it stands for 'Musicians, Outlaws and Entertainers.' We wanted to make sure the food, music and décor fit together, while at the same time making sure the customer journey is streamlined. When a guest walks in, after they are greeted 'Welcome to Moe's,' they will very clearly see signage that directs them to get in line to order, or, if they are there to pick up an order, they are directed to our pickup shelves for our app, online or delivery orders. It's important to have graphics that reflect the brand identity, while enhancing the guest experience."
Appealing to 'musicians, outlaws and entertainers' — as well as everyone else! — Moe's Southwest Grill is a southwestern-style brand with swagger. Its well-known "Welcome to Moes!" greeting, famous queso, free chips and salsa, and quirky menu names are just a few things that set it apart from the competition.
The Moe's brand has been beloved for more than 20 years, and today its team is laser focused on its commitment to upholding that consumer loyalty by investing in modernizing its brand positioning with a refresh that not only impacts customers, but its franchisees and their unit-level profitability.
Says Bartlett: "This year, we've continued taking risks and making bold moves as a nostalgic brand on the cutting edge with new designs, prototypes, technology and more — all while serving the same delicious food our customers crave and greeting them with the familiar 'Welcome to Moe's!' that started it all."
—Katie Lee
This article was originally published in the October 2023 issue of Shopping Center Business magazine.