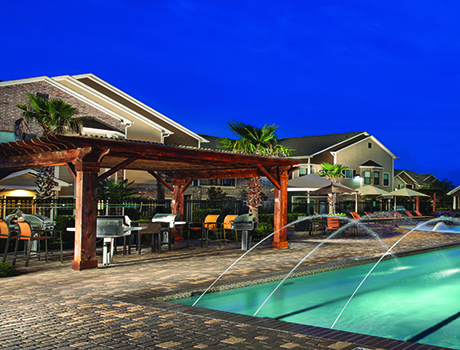 Atlanta and New York City — Blackstone Real Estate Income Trust Inc. (BREIT) has entered into a definitive agreement to acquire Preferred Apartment Communities Inc. (PAC) for approximately $5.8 billion. Under the terms of the agreement, BREIT will acquire all outstanding shares of PAC's common stock for $25 per share in an all-cash transaction.
PAC's portfolio includes 44 multifamily communities totaling approximately 12,000 units concentrated largely in Atlanta, Orlando, Tampa, Jacksonville, Charlotte and Nashville, as well as 54 grocery-anchored retail assets comprising roughly 6 million square feet in Atlanta, Orlando, Nashville and Raleigh. BREIT will also acquire PAC's two Sun Belt office properties and 10 mezzanine/preferred equity investments collateralized by new or under-construction multifamily assets.
"Investing using BREIT's perpetual capital will enable us to be long-term owners of these vibrant communities," says Jacob Werner, co-head of Americas acquisitions for BREIT. "The company's grocery-anchored retail portfolio performance has also been strong and resilient, and we believe these types of necessity-oriented assets located in areas with growing populations are well positioned for continued growth."
Joel Murphy, PAC's chairman and CEO, says the transaction is an excellent outcome for shareholders and the culmination of efforts over the past few years to simplify and refocus PAC's portfolio.
The purchase price represents a premium of approximately 39 percent over the unaffected closing stock price of $17.96 per share on Wednesday, Feb. 9., the date prior to media reports that the company was exploring strategic options such as a sale.
PAC's board of directors has unanimously approved the transaction, which is expected to close in the second quarter.
The stock price for Atlanta-based PAC (NYSE: APTS) opened at $25.05 per share Wednesday, Feb. 16, up from $8.21 per share one year ago.
BREIT is externally managed by a subsidiary of New York City-based Blackstone (NYSE: BX). Blackstone's stock price opened at $124.25 per share today, up from $70.34 per share one year ago.
— Kristin Hiller
classic-editor-remember:

classic-editor

bs_sponsor_advertiser_id:

new_advertiser

bs_sponsor_advertisement_id:

bs_ads_disabled:

abkw-text: