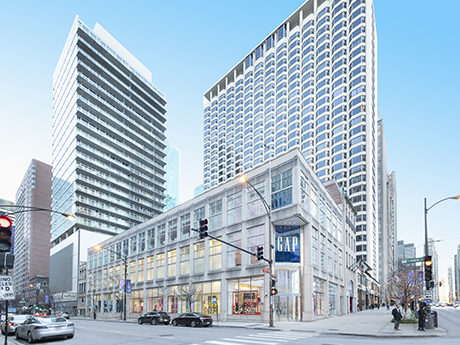 This summer, Canadian women's fashion retailer Aritzia signed a lease for 46,000 square feet at 555 N. Michigan Ave. for its fourth Chicago-area location. At the time of the lease signing, the deal represented the largest completed transaction on the Magnificent Mile in nearly a decade and the first flagship deal since 2019, according to CBRE. 
Athletic footwear and apparel retailer HOKA opened its first Chicago pop-up store earlier this year in new ground-floor retail space at 444 N. Michigan Ave., an office building rising 36 stories. HOKA opened its first pop-up stores in fall 2021 in New York and California. CIM Group and Golub & Co. have owned 444 N. Michigan Ave. since 2018 and are working on renovating and repositioning the 517,000-square-foot property. 
CIM and Golub also own the nearby Tribune Tower, which features 50,000 square feet of retail space in a portion of the property named The Shops at Tribune Tower. Foxtrot Market, the Museum of Ice Cream and Blue Bottle Coffee recently joined the tenant lineup.
While there are success stories taking place on the Magnificent Mile, there are also numerous hardships. Several retailers have vacated storefronts. Adding insult to injury, Brookfield Properties announced in April that it would turn over Water Tower Place shopping mall to its lender. 
According to media reports, the action was a clear indication that the mall is worth less than the estimated $300 million in debt owed on it. The property was the city's first indoor mall when it opened in 1975. Anchor tenant Macy's vacated the mall last year. 
Kellen Duggan, vice president of brokerage services with the Chicago office of Friedman Real Estate, says that business owners are still struggling to get back to normal in the aftermath of COVID-19. Some of the top issues they face include employee retention, property tax increases and inflation. 
"There is still a shortage of employees, making it very difficult for a lot of the retailers to keep their normal hours or stay open for business," echoes Brian Parmacek, first vice president of investments with Marcus & Millichap's downtown Chicago office.
In Parmacek's eyes, the suburbs are benefiting at the cost of downtown mostly because of the high property taxes that are associated with Cook County. 
"Private investors are looking at lower tax areas such as DuPage, Lake, Kane and Will counties where they believe their tenants will have a better chance to survive, and they will be able to keep their property at a high occupancy with low turnover costs," says Parmacek.
Cook County Assessor Fritz Kaegi has reassessed nine of the 13 townships in northern Cook County this year, according to Crain's Chicago Business. The total assessed value of all nonresidential properties in the nine townships rose 43.4 percent from 2021, versus a 32.4 percent increase for homeowners.
"The suburbs are now the most desirable place to acquire and lease real estate due to lower property taxes," states Jason Lenhoff, executive vice president of capital markets for Chicago-based Quantum Real Estate Advisors Inc. "The communities that border Cook County have seen an increase of development and expansion." 
"Cook County challenges seem to be getting worse in urban areas revolving around crime increases, political headwinds and tax increases on retail properties," says Duggan.
Besides rising property taxes, the downtown market has also been adversely affected by the rise in the number of workers telecommuting, which lowers demand for office space. The central business district's office vacancy rate sat at 19 percent as of the second quarter, according to CBRE. While the suburban office market posted a higher vacancy rate of 23.9 percent, its asking rates averaged $24.49 per square foot compared with $42.92 per square foot downtown. 
"Some higher-end restaurants that previously only operated downtown are considering suburban opportunities," says Joe Parrott, a senior vice president in CBRE's Chicago office. 
Who's Selling
Traditionally, pension funds and REITs have been the most active buyers for shopping centers. "Many of those groups are taking a pause with the current volatility in the market, however," says Joe Girardi, a principal with Mid-America Real Estate Corp.'s investment sales group in Chicago. "As a result, most of the transaction activity is currently being driven by private capital." 
The most sought-after retail properties include grocery-anchored shopping centers, unanchored strip centers and big box centers anchored by best-in-class retailers, according to Girardi. 
This summer, Mid-America brokered the sale of The Landings, a 112,622-square-foot shopping center in the Chicago suburb of Bolingbrook. An affiliate of Atlanta-based RCG Ventures sold the property to Irvine, California-based Sperry Equities. Anchor tenants include PetSmart, OfficeMax, Planet Fitness and Modern Furniture.
Parmacek says that there are two types of properties that investors are currently looking for: (1) value-add opportunities; and (2) stable, core assets that are situated in very dense infill areas in high barrier-to-entry markets. "Private investors are doing most of the buying right now due to the low cap rates," he says. 
Recently, Parmacek represented a private investor in the purchase of a Starbucks-anchored strip center in Palos Heights, a southwest suburb of Chicago. He also represented the private seller. The 5,222-square-foot property was fully leased at the time of sale to three tenants. 
For the most part, owners are choosig to hold onto their properties and wait for the dust to settle from today's unsettled debt and equity markets, says Lenhoff. "With interest rates as high as they are, and the Federal Reserve continuing to increase the federal funds rate, it could be an 18- to 24-month period until we see the type of sales that we were fortunate enough to see in 2020 and 2021," he states.
In September, the Federal Reserve raised its benchmark interest rate by another three-quarters of a percentage point to a range of 3 to 3.25 percent to combat high inflation. The Consumer Price Index increased 8.3 percent in August on a year-over-year basis.
"Obviously, interest rates are the hot topic right now in the investment world," says Lenhoff. "Everyone from brokers to bankers to property owners is watching what the Federal Reserve is going to do to curb inflation, and what that subsequently means to each specialty in the real estate world." 
This summer, Lenhoff represented a private, Florida-based investor in the purchase of Woodfield Corners, a 13,500-square-foot retail center in the Chicago suburb of Schaumburg. A local, private seller sold the asset for $5.6 million. At the time of sale, the property was fully leased to Panda Express, Batteries Plus, Crumbl Cookies, Jersey Mike's, Oreck Vacuums, H&R Block, Rosati's Pizza and Little Greek.
Earlier this year, Mitchell Kiven, first vice president of investments with Marcus & Millichap's downtown Chicago office, brokered the $3.4 million sale of a Caliber Collision auto service center in Northbrook, a northern suburb of Chicago. A California-based real estate investment fund purchased the 36,000-square-foot, net-leased building from a private investor at full asking price, representing a cap rate of 5.78 percent.
"Transaction velocity is picking up again, but rising interest rates and an active summer travel season slowed activity for the last two to three months," says Kiven. "We are seeing movement again on assets that are properly priced and not functionally obsolete."
After putting off travel throughout the pandemic, Americans were eager to travel this past summer. Despite concerns about macro-economic factors, 68 percent of travelers still planned to take their summer vacation "no matter what," according to a study from McKinsey & Co.
Who's Expanding
Expanding retailers in the Chicagoland market include quick-service restaurants such as Chipotle and discount retailers such as Dollar Tree, according to Duggan. Additional categories include grocery, specialty medical, cannabis and furniture tenants. 
CBRE's Parrott provides the following list of retailers active in the marketplace: Amazon Fresh, pOpShelf, Market by Macy's, At Home, Ross Dress for Less, Burlington, Slumberland Furniture and Ollie's Bargain Outlet.
Duggan's firm recently negotiated a 27,000-square-foot retail lease on behalf of Ashley Furniture in Peru, a city located about midway between Peoria and Chicago. 
Larger, distressed storefronts are being backfilled by value-conscious retailers and "quasi-retail" users, says Duggan. "Some distressed big boxes are being converted into industrial, self-storage or other unique uses if the municipality is willing to rezone the property," he says. "Medical users continue to expand into storefronts." 
"There is a plethora of new types of tenants that are backfilling storefronts," echoes Lenhoff, who says he is also witnessing a large number of "mom-and-pop" shops opening in the marketplace. 
"Some people quit their 9 to 5 job, refinanced their house to pull out equity, and began a new business that they have always been dreaming of," explains Lenhoff.
In the age of experiential retail, several entertainment concepts have expanded to the Chicagoland market. Color Factory, an immersive art museum, recently opened at Willis Tower. The 24,000-square-foot space represents Color Factory's largest venue and flagship location, following openings in Houston and New York City. 
In late May, EQ Office completed its more than $500 million renovation of Willis Tower. Part of the transformation is Catalog, a 300,000-square-foot retail, dining and entertainment destination at the base of the 110-story office tower.
Five Iron Golf, an indoor golf simulation experience, signed a 13,150-square-foot lease to open a new location in Chicago's Lincoln Park. The tenant previously signed leases in The Loop and River North. 
In the suburbs, FunCity Adventure Park recently inked a lease for 35,549 square feet at River Pointe shopping center in Algonquin. FunCity, an indoor entertainment concept that offers activities such as trampolines, laser tag, foam pits, bumper cars, arcades and party rooms, now maintains 25 locations nationwide. 
Generally speaking, there is a flight to quality among retail space users in the marketplace, argues Steve Frishman, a leasing principal with Mid-America. 
"Many of our tenants appear to be doing fewer transactions, but they are willing to pay more to get the best locations for the best remaining markets," he says. "By comparison, they are unwilling to consider the 'B' sites in the 'B' markets, even if they are greatly discounted."
—Kristin Hiller
This article was originally published in the October issue of Shopping Center Business magazine. 
classic-editor-remember:

classic-editor

bs_sponsor_advertiser_id:

104493

bs_sponsor_advertisement_id:

bs_ads_disabled: