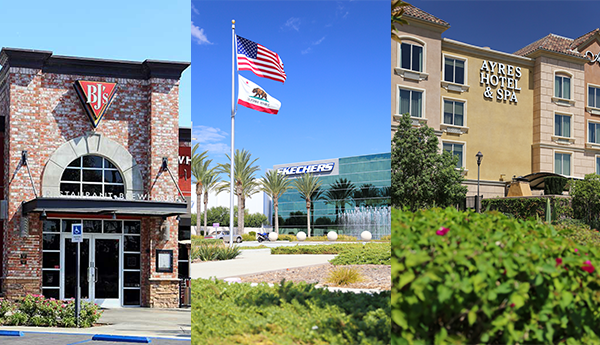 Successful companies looking to expand their brand know there is one location in Southern California that consistently beats the rest: the City of Moreno Valley.
There's a reason that companies like Sprouts, Raising Cane's, Texas Roadhouse, Hilton, Capriotti's and WoodSpring Suites are expanding in the city. They are supported by Moreno Valley's second-to-none pro-business environment, a skilled and motivated workforce, strategic location and affordable lease rates.
Fortune 500 and international companies are thriving in Moreno Valley, and here's why.
Location, Location, Location
Situated at the junction of SR-60 and I-215, Moreno Valley is only an hour away from Los Angeles, Orange and San Diego counties and is less than three hours to Nevada, Arizona and Mexico.
We are home to Costco, Pottery Barn Warehouse, West Elm Outlet, SuperTarget, Home Depot, Macy's, Burlington, TJ Maxx/HomeGoods, Ulta, BevMo and more.
200 nationally recognized and boutique restaurants offer distinctive dining experiences, like BJs Restaurant and Brewhouse, Portillo's, ZPizza & Tap Room, Café Rio, Habit Burger, Chili's and Mountain Mike's Pizza. Moreno Valley restaurant chains outperform the national average by as much as 25.6 percent.
Residence Inn by Marriott, Holiday Inn Express, and Fairfield Inn and Suites recently opened and more hotels are in development.
Growth Beyond Compare
Our population of 217,000 is booming, and our annual growth rate is 3.44 percent.  2.4 million people live in a 20-mile trade radius. The average household income is nearly $95,000, and 20,000 households are above $100,000 annually.
We have created 25,600 jobs in the last 7 years.
Residential construction is adding additional new housing opportunities with nearly 6,000 single- and multi-family units under construction or in development.
Three colleges (University of California, Riverside; Cal Baptist University and Moreno Valley College) attract more than 40,000 students. In total, 44 universities and community colleges educate more than 225,000 undergraduates within 50 miles of Moreno Valley.
Riverside University Health System Medical Center (headquarters for Riverside County's hospital system, based here in Moreno Valley) and Kaiser Permanente are both expanding their facilities by more than 1 million square feet each to meet strong regional demand.
Incentives
Time is money. The Moreno Valley concierge service assists businesses through each stage of the development process. And our unparalleled plan check turnaround time consistently beats other agencies in the region.
With its city-owned electric utility company, Moreno Valley offers attractive electric rate discounts that range from 7 to 26.5 percent. Businesses may receive an additional 2 to 4 percent for hiring locally.
The city also developed the "Hire MoVal" program, which financially rewards businesses who hire local graduates and veterans. Together, the City of Moreno Valley and the County of Riverside run the popular Business & Employment Resource Center, offering businesses free workforce recruitments, employee training, business consulting, workshops and job postings.
Under the Time and Materials program, businesses may be eligible for cost savings on post-entitlement Planning, Building & Safety, Land Development and Fire Prevention plan check, permit and inspection fees.
Hottest Market in Southern California
At 4,500 businesses strong, Moreno Valley is home to regional headquarters and major facilities for national companies including ALDI Foods, Amazon, Skechers USA, Nautilus Fitness, Floor & Décor, Harbor Freight Tools, Solaris Paper, Gate City Beverage, Keeco Bedding, iHerb, Lowe's Home Improvement, O'Reilly Automotive, Ross Dress For Less, Serta Mattress, Sherwin Williams and Walgreens. Two electric vehicle manufacturers, Karma Automotive and AYRO, also call Moreno Valley home.
—By Mike Lee, city manager, City of Moreno Valley. This post is posted as part of Shopping Center Business' Retail Insight series. Click here to subscribe to the Retail Insight newsletter, a four-part newsletter series, followed by video interviews delivered to your inbox in May/June.
classic-editor-remember:

classic-editor

mww-disclaimers-sp:

1

bs_sponsor_advertiser_id:

104493

bs_sponsor_advertisement_id:

bs_ads_disabled: