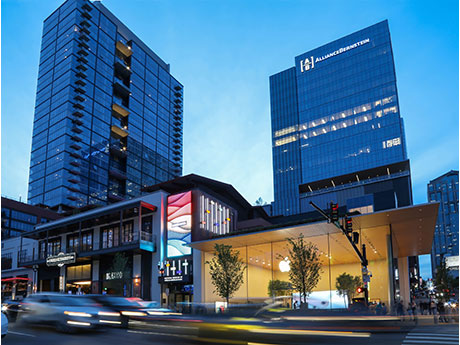 Nashville, Tenn. — Global real estate investment firm Northwood Investors LLC has acquired Fifth + Broadway, a newly developed mixed-use project in Nashville. The purchase price was $715 million, according to the Nashville Post.
Brookfield Properties, which developed and operated the asset, completed construction in 2021. Northwood purchased the property in its entirety, including the retail portion, 501 Commerce office tower and The Place residences, from a subsidiary of Brookfield.
Fifth + Broadway is one of the largest single-phase mixed-use developments in the history of the city and the state of Tennessee, according to Northwood. The project, which replaced the six-acre Nashville Convention Center site, features 250,000 square feet of retail and entertainment space; the 56,000-square-foot National Museum for African American Music; 367,000 square feet of Class A office space; 381 apartment units; and more than 2,000 parking spaces.
Pacific Life provided acquisition financing for the transaction.
Northwood, which has experience in retail and mixed-use assets, says it is well positioned to take the reins in managing the project. Most of Fifth + Broadway's management team have transitioned to Northwood and will continue in their existing roles.
This latest transaction marks the fifth acquisition for Northwood in the Nashville market. Other properties include The Conrad hotel, Capital View apartments, the McEwen Northside mixed-use center and Franklin Park office towers.
"We feel that Nashville is a high-growth market and one that we have been watching since 2011," says Ward Kampf, president of Northwood Retail. "It's an 'it' city for business and entertainment."
Northwood says it is drawn to the Nashville market for its diversified economy, cultural authenticity, attractive cost of living and premier talent base. Northwood, which maintains U.S. offices in Denver, New York City, Los Angeles and San Francisco, currently manages a portfolio aggregating approximately $20 billion in total gross asset value.
— Kristin Hiller
classic-editor-remember:

classic-editor

bs_sponsor_advertiser_id:

104493

bs_sponsor_advertisement_id:

bs_ads_disabled: