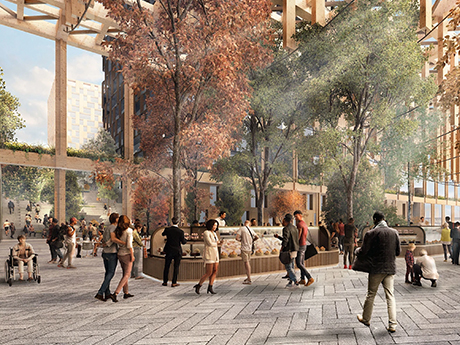 Cleveland — A partnership between Detroit-based developer Bedrock and the City of Cleveland has unveiled plans for the Cuyahoga Riverfront, an initiative that will feature 3.5 million square feet of new development and adaptive reuse projects across 35 acres of publicly and privately owned waterfront land.
According to multiple news outlets including The Plain Dealer and Spectrum News, the project is valued at $3.5 billion. Preliminary plans for the site call for the addition of approximately 2,000 residential units, 850,000 square feet of office space and 12 acres of open public space, as well as hospitality, retail and restaurant uses. The development team is targeting a 15- to 20-year timeline for full buildout and transformation of the site.
In addition, Bedrock partnered with Sherwin-Williams Co. to acquire Landmark Office Towers and the Breen Technology Center. Specific plans regarding the future use of these buildings were not immediately disclosed.
The development team — which includes master architect David Adjaye, local firm Osborn Engineering and urban planning firm MKSK — views the site as a natural connective bridge between the Cuyahoga River and downtown Cleveland. Adjaye spent the last several months in Cleveland cultivating a plan to make that vision a reality.
"Our redevelopment strategy for the downtown Cleveland riverfront taps into the lost heritage of the city, establishing a new relationship between the urban core and the shore," says Adjaye. "As I became more deeply immersed, the need to build a more tempered flow of movement through the city became immensely clear."
"David's vision not only embraces downtown Cleveland's rich history and connection to nature, but also addresses the demands of a world-class city by leveraging sustainable infrastructure and emphasizing pedestrian and transit modes to large, activated open spaces," adds Kofi Bonner, CEO of Bedrock.
The centerpiece of the development will be Tower City Center, a shopping, dining and entertainment destination. To ensconce the marketplace's role as the hub of the site, the development team is also considering adding new public transportation infrastructure to connect to downtown and surrounding neighborhoods.
The west side of the Cuyahoga Riverfront site houses accessible green space via its connection to the Cuyahoga Valley National Park system, and the development team will expand on those features with walking paths. This neighborhood within the larger site will also have office and retail spaces near Huron Road and will transition to smaller residential blocks closer to a new Canal Road.
To the east of Tower City, Adjaye's plan introduces enclaves of recreation, including an amphitheater and space for public events and activities.
— Taylor Williams
classic-editor-remember:

classic-editor

bs_sponsor_advertiser_id:

104493

bs_sponsor_advertisement_id:

bs_ads_disabled: