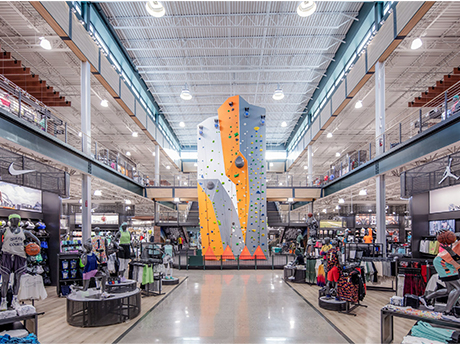 Pittsburgh — Dick's Sporting Goods (NYSE: DKS) plans to open as many as 75 to 100 new House of Sport stores over the next five years, according to Lauren Hobart, CEO of the Pittsburgh-based retailer.
House of Sports is a retail concept that provides interaction and experiences including putting greens, rock walls, batting cages and turf baseball fields, along with sports-related apparel and equipment for sale. There are currently three House of Sports stores in Rochester, New York; Knoxville, Tennessee; and Minnetonka, Minnesota.
"House of Sport will be a significant part of our future growth story," says Hobart. "Over the next two years, we plan to open around 20 additional locations, including downtown Boston and our two hometowns of Pittsburgh and Binghamton, N.Y."
Hobart's comments came during an earnings call following the release of Dick's Sporting Goods' fiscal fourth-quarter 2022 earnings report. According to CNBC, Dick's outperformed expectations with a 5.3 percent increase in same-store sales during its fiscal 2022, which ended Jan. 28. Analysts predicted the retailer's same-store sales would rise only 2.1 percent.
Dick's recently announced its decision to exit its Field & Stream brand, which focused on outdoor sports such as fishing and hunting. As a result, the company closed 12 of the remaining 17 stores during its fiscal fourth quarter. Eight of those 12 stores will be converted to House of Sport, and the other four will operate as expanded Dick's Sporting Goods locations.
The earnings report and investment call come on the heels of Dick's announcing its pending acquisition of Moosejaw, an outdoor goods retailer based in Madison Heights, Michigan. Dick's purchased the brand, which operates brick-and-mortar locations primarily in the Midwest, from Walmart.
Additionally, Dick's was recently named the official sporting goods retail partner of the NCAA, which includes the retailer providing immersive fan experiences beginning with the men's and women's March Madness basketball tournaments.
Founded in 1948 with a store in Binghamton, Dick's Sporting Goods now operates more than 850 Dick's Sporting Goods, Golf Galaxy, Public Lands, Going Going Gone!, House of Sport and Warehouse Sale stores. The retailer also owns and operates Golf Galaxy Performance Center, as well as GameChanger, a youth sports mobile app for scheduling, communications, live scorekeeping and video streaming. The Moosejaw acquisition is expected to close soon.
The company's stock price closed on Tuesday, March 7 at $146.79 per share, up from $101.58 a year ago, a 44.5 percent increase.
— John Nelson
classic-editor-remember:

classic-editor

bs_sponsor_advertiser_id:

104493

bs_sponsor_advertisement_id:

bs_ads_disabled: