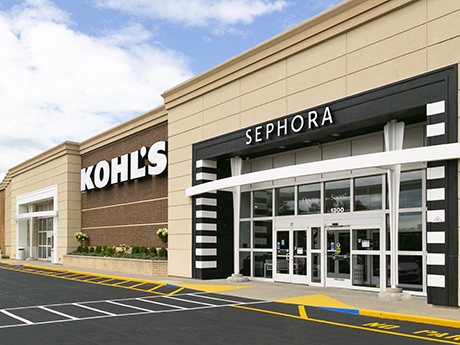 Menomonee, Wis. — Kohl's (NYSE: KSS) has announced plans to increase its investment in brick-and-mortar with the addition of 100 new, smaller-format locations over the next four years in previously untapped markets. 
This expansion follows the pilot of 20 stores featuring the company's smaller-format design, which averages around 35,000 square feet versus the traditional 80,000-square-foot iteration. In June, the Menomonee-based company will be opening a smaller-format shop in Bonney Lake, Washington, and in the fall, stores are set to open in San Angelo, Texas; Morgantown, West Virginia; Tacoma, Washington; and Lenox, Massachusetts.
Alongside the addition of these new locations, Kohl's will be modernizing its existing 1,165-store portfolio by transforming the flow of its interiors to include dedicated discovery zones with products from diverse- and female-owned companies. 
The company will also be expanding its partnership with beauty retailer Sephora through the addition of 850 of its Sephora at Kohl's shop-in-shops by 2023. Sephora at Kohl's shops, which typically occupy 2,500 square feet toward the front of the store, offer an expanded collection of the San Francisco-based retailer's make-up, skin- and hair-care, and fragrance offerings. 
Kohl's has also announced plans to roll-out omnichannel initiatives over the next year, including the ability to buy products online and pick up in-store (BOPIS). Kohl's is also testing self-serve returns and self-checkout services in its stores to help simply the purchase and return process. 
"Kohl's began with roots as a brick-and-mortar company, and these 60 years of experience have set the company up to become a leading omnichannel retailer," says Mark Griepentrog, chief property officer at Kohl's. "Our strong and productive off-mall store base can continuously evolve with our customers' expectations and demand, and we see substantial opportunities to leverage our real estate in producing long-term growth."
Several traditional big-box retailers are showing promise in the current consumer spending environment, with Macy's (NYSE: M) reporting sales growth and raising its earnings guidance for the year earlier today. Comparable sales for the retailer rose 12.8 percent in the first quarter of this year compared with the same period a year ago. 
This positive sales outlook contrasts with reports last week from Walmart (NYSE: WMT) and Target (NYSE: TGT), which saw investors dumping shares amid fears that the companies wouldn't be able to pass along higher prices to consumers due to inflation, according to The Wall Street Journal. 
Kohl's stock rose following the announcement to close at $40.48 per share on Wednesday, up from $36.18 the day prior. The company's stock has declined year-over-year from $53.79 on the same date last year, a nearly 25 percent drop. 
— Katie Sloan
classic-editor-remember:

classic-editor

bs_sponsor_advertiser_id:

104493

bs_sponsor_advertisement_id:

bs_ads_disabled: