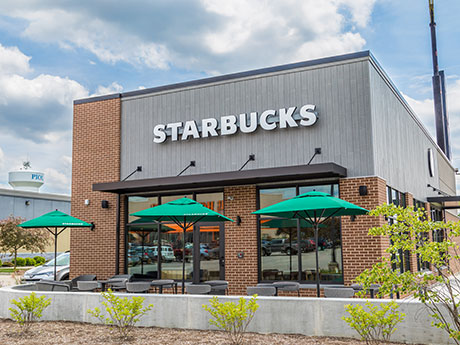 Seattle — Starbucks Coffee (NASDAQ: SBUX) has announced plans to open 2,000 stores by 2025 and invest $450 million in its North American real estate, which will include the modernization of existing locations across the U.S. 
The announcement took place during the company's 2022 Investor Day conference in Starbucks' home town of Seattle. The company's reinvention plan includes the implementation of a store design that streamlines work behind the counter, enabling better connection with the customer. Starbucks also plans to reorganize its real estate portfolio to include a greater number of pick-up stores and drive-thru-only and delivery-only locations.
"When we think about our existing store portfolio and our investments, they must deliver in a few critical areas," said John Culver, group president for North America and chief operating officer. "Reducing the level of complexity and making work easier for our partners; enabling stronger engagement and connection between our partners and the customers they serve; and delivering experiential convenience."
Starbucks also plans to expand its mobile order offerings via the company's app, allowing customers to know when their order is ready and making the process of mobile ordering easier and more efficient during peak hours. Mobile ordering will also be extended to the company's airport and grocery store locations. 
Further details on the planned store expansion and upgrades to existing domestic locations were not disclosed.
The company opened its first location in Seattle's Pike Place Market in 1971 and has grown to more than 34,000 stores worldwide. The SBUX stock price closed at $92.70 on Wednesday, Sept. 14, down from $116.27 one year ago. 
—Katie Sloan 
classic-editor-remember:

classic-editor

bs_sponsor_advertiser_id:

104493

bs_sponsor_advertisement_id:

bs_ads_disabled: